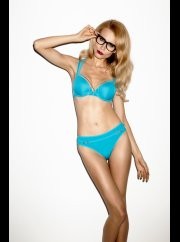 When it comes to buying a bra, you need to make sure you are purchasing the right size for you. A wrong fitting bra could be uncomfortable and may also cause you problems. When looking for a new bra, it is important to consider the style and design but also the sizing and shape of the item. Any lingerie expert will tell you that getting a bra fitting is vital to your posture, body shape and possibly your health.
A lot of women out there are wearing the wrong bra size, could you be one of those women? Here are just some of the benefits to wearing a well fitted bra.
Posture – A quality bra that fits well will help you with your posture. Slouching and not sitting up straight can be caused by a bad bra.Body Shape – Wearing the right size will help to create a much better shape for your body. A good quality bra will give your chest a lift and help to create a much better body shape.Tightness – If you are wearing a bra that is too small, then this could be digging into your chest and shoulders and causing you pain. If you feel your bra is too tight, then you will need to go up a size.Too loose – A bra that is too big will not give the right support to your chest. If you find your straps are falling down often or that your band is not fitting well, a smaller bra size may be needed.