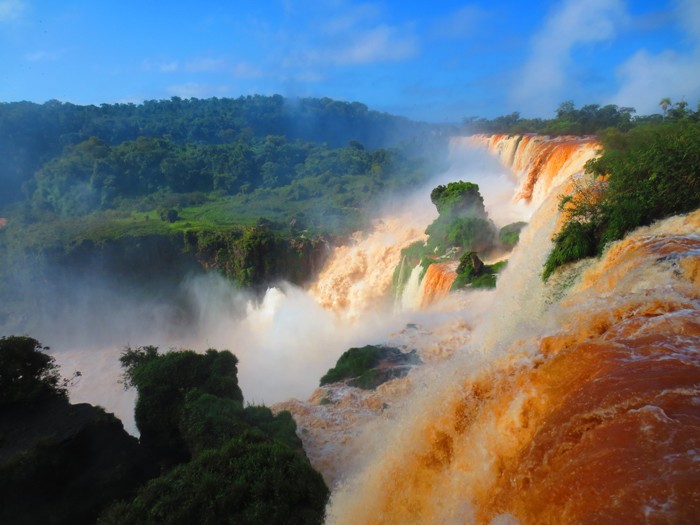 Iguazu Falls is at the top of the list for any traveller to Brazil or Argentina, or indeed, South America. This thundering collection of waterfalls is twice the size of Niagara, and being surrounded by lush tropical rainforest makes it quite a sight to behold and no surprise it was named one of the world's New 7 Wonders of Nature.
Argentinean side versus Brazilian side There is a lot of debate as to which side of the falls provides the best view. From my research, the consensus is: Brazilian side for the big picture; Argentina for close-up action.
How I did it I was travelling up from Buenos Aires so I visited from the Argentinean side, waiting to see whether I felt I needed to go to Brazil, too. As it was, I was more than happy with what I saw and experienced, and being on a tight budget, skipped Brazil. In Argentina, you stay in a town that has grown up by the falls – Puerto Iguazu – which has plenty of good quality hotels, restaurants and tour operators.
What to expect at the Argentinean side of the falls It's very well organised – you pick up one of the regular buses that leave from Puerto Iguazu's bus terminal to the entrance to the site, a journey of around 18km. Once you're through the ticket offices, stop in the visitors' centre for useful background knowledge and an introduction to the falls and their position in the rainforest.
Next, head to the railway station and hop on this green-powered miniature train to the first stop where you can walk the Circuito Inferior (Lower Circuit) and the Circuito Superior (Upper Cicuit). These boardwalks traverse through the jungle with ever-increasing spectacular views through the trees over the falls.