4 minutes reading time
(785 words)
10 to Die For Beach Bikini Wear Trends
Summer 2017 is finally here!
Now that the last of the Winter holidays is finally behind us, along with that heart-shaped box of chocolates, it's time to start thinking beach. Your favorite stores are already racking up the bikinis, and they are smokin' this season. Start getting ready now if you want to prance around in the sand in one of these sexy numbers.
If fashion week was any indication, Beaches and pools around the world are in for a big treat this summer. From what we saw on the runways, and now in stores, there is tons of diversity in swim wear this season. This should make it a snap to find a suit that looks like a million bucks on any body type.
Secure your place as the babe on the beach with high-waist bottoms, cut out panels and jet-setting prints and you'll need your own life raft to keep the sharks away.
Eye-Popping Prints
Women look for prints in swim wear to show some skin while camouflaging flaws, and nothing can make your assets stand out better than an eye-popping 3D design. When strategically placed, all eyes are drawn where you want them, overlooking where you don't. You may even get that sunglass lift look if your prints are placed right.
High Neck Hi-Jinks
Show off flat abs stunningly in a high necked cropped top and super low bikini line. There will be no stopping the stares that head straight towards that incredible waistline. Expect no camouflaging here girls, so if this is the va-va-voom look you want, better forget about those Easter chocolates.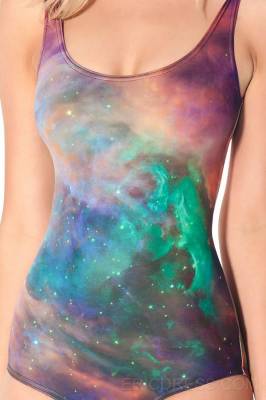 Long Line Tops
A bit more forgiving then the above mentioned crop, long line bikini tops still beg for a barely there bottom, but bring the top down to cover more of your belly. Styles vary, with some using a straight cut under the bust line, while others stream out on an angle using ruffles to hide the waist.
Long Sleeves
This is definitely a head turning look if you are going to a swanky pool party this summer. The styles range from flowing one piece ensembles that would fit right in on the French Riviera to form fitting bikinis that mirror scuba wear. While not fit for working on a tan, a long sleeved separate is a great way to take your beach wear straight to the after party.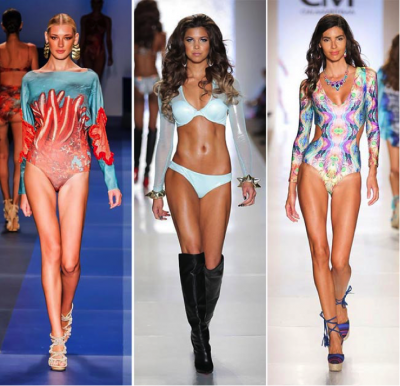 High Waisted Bottoms
A throw back to the sizzling '60's, the high waisted bottom lets the bigger bottomed babes rock a bikini and look fab doing it. Paired with a low cut top or one with a bold pattern, and all eyes are drawn upwards as you make your entrance onto the sandy shores. Add a small heeled sandal if you want to slim the bottom even more.
Sporty Chic
Calling all tom-boys! These are the looks you wanna' rock when spiking balls over a beach net. Still sexy while holding everything in place, go ahead and fling a Frisbee or surf the waves with no worries about any one falling out. Straps on the tops and form fitted movement allow for maximum movement without compromising on chic.
Seductively Sheer
An original look for the 2015 swim wear season is sheer material and mesh. With patches of fabric in barely the right places, this creates a sophisticated look for after dark pool parties. You will need to watch how you move, but you will be able to find cuts and styles that are meant to complement any number of body types and frames.
Frilly Tops
Cute and feminine, a frilly top on a bikini is all the rage for those girls who are not as voluptuous as they may like. Draping down over the bust, these add volume to create a striking silhouette. Bright patterns or even a 3-D design will add even more depth up top.
Leather Swim Suits
New for 2015 are dramatic swim wear looks in all leather. Not for those who plan on dipping, unless it's in the skinny, these are strictly pieces inspired to shock and awe. Add some cut outs or lacing in the suit, and you are killer trendy this summer.
Cut A Ways
Swim suit designers got a bit snippy for 2015 and started cutting away at the one piece. The effects are stunning suits that show snippets of skin through unique designs. Find one with the cut outs that pull the eye towards your best features and you are the instant envy on the beach.
Designers got edgy for 2015, and you will benefit. With such a wide array of innovative designs and styles, the sand won't need the sun to get scorched.
Comments
No comments made yet. Be the first to submit a comment
By accepting you will be accessing a service provided by a third-party external to https://style-review.com/