3 minutes reading time
(652 words)
Should I rent or Buy a Tuxedo?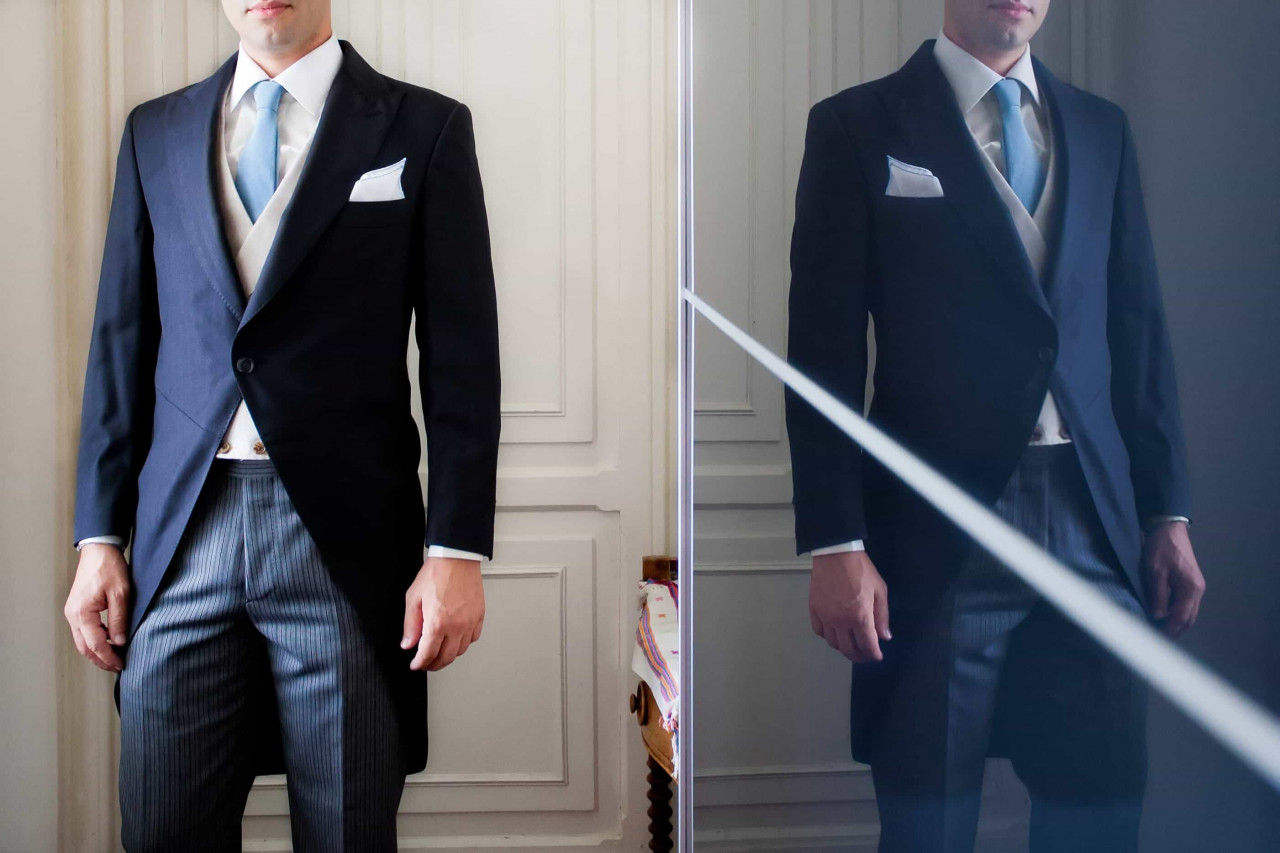 Conceived in the sartorial revolution of the early 19th century, custom made blazers & suits have since become a fashion staple! Suits when donned right with quintessential fit, oozes class & mask all imparities.
Should I rent or Buy a Tuxedo?
This is the classic debate for any occasion. It comes as no surprise that most people prefer renting a tuxedo. Renting is typically the budget friendly option for a big ticket item like a tuxedo. Moreover, these are often deemed to be special occasion attire. Hence shelling out money for intermittently worn attire is reckoned as unlucrative.
However, renting a tuxedo is the biggest mistake a man can do. This is the kiss of death. Rental tuxedos have a deservedly bad reputation. They are often derided as frumpy, ill-fitting, dated & sometimes even frayed or stained.
No amount of styling or grooming can save an ill-fitted suit. Achieving a desired look is impossible by stepping in an inferior quality tux. And if you are reluctant to put money on this elegant attire wondering if you will ever have the opportunity to wear it again, then here is the answer. Any invite to the opera, ball, formal dance party, formal dinner parties, ballet or symphony requires the donning of tuxedos.
Custom made tuxedo offers the best fit
The bespoke suit, with its exquisite detail and luxurious fabrics, was once reserved only for wealthy style connoisseurs. As prices fell & awareness grew, custom tailoring became a growing trend among professional men.
Made to measure suits is one of a kind, handcrafted garment made expressly for a client. Though you may have to lose your pockets to get one, the durability, personal style & outstanding fit offered by these is exemplary.
One's appearance fairly acts as a window through which the world looks at them. Moreover donning well fitted comfortable clothes plays a vital role in elevating ones confidence.
Made to measure Dubai suits offer a unique empowering feel as it sits snugly against your body. It is a style statement that reflects your personality & reveals your identity.
If you are unsure of what to wear to a formal event, then look no further. Go for custom made blazer or custom made tuxedos as the advantages of adorning these made to measure suits online are plenty.
Immaculate & Dapper fashion: As discussed earlier, ready-made tuxedos rarely offer a perfect fit. Even after alterations, this outfit for all occasions may not leave you satisfied. Custom made tuxedo however is a key to confidence & self-assurance is. Decking oneself out in made to measure suits online offers a dandy look with perfect comfort.
Style to your taste: Custom made tuxedo offers a stupendous opportunity to style your suit to your preference & personality. A ready-made suit may offer flawless designs in wide range of colors but the fabric may be bog-standard. Perhaps the store stocks your favorite color & acceptable fabric but the design doesn't compliment your personality. Should a suit catch your eye, you still leave the store disappointed because your size wasn't in stock — or it was beyond your budget. Hence finding the perfect combination of design, fabric, fit, color and price is next to impossible - but made to measure suits online meet your demands easily to make you feel relaxed & confident.
Stay Hassle-free: Made to measure Dubai offers you the best services to ensure that you stay cam & composed. When you send measurements & specifications to us, we deliver your tailor made suit to your door. Personalized tuxedos & blazers fit you like a second skin. Moreover, door delivery saves you time from on public transport or finding a parking space, and fighting crowds at the department store, where nobody can find good help from courteous sales associates.
All these factors warrant you to go for made to measure suits online. Tailored to your individual measurements & specifications, we dare to guarantee a perfect fit – every time!
Comments
No comments made yet. Be the first to submit a comment
By accepting you will be accessing a service provided by a third-party external to https://style-review.com/