Temptation Cruises are adult-themed cruise lines that cater to travellers looking for a more intimate, sensual vacation experience.
These cruises typically feature a range of activities and entertainment options designed to enhance the passenger's experience, including themed parties, live performances, and group excursions. The atmosphere on these cruises is often more relaxed and free-spirited than on traditional cruises, and they are marketed towards individuals and couples who are looking for a more sensual, adult-oriented vacation experience.
😻 💋 TEMPTATION CRUISE 2024 LIST JUST TAP 💋 😻 <<
It's important to note that these cruises may contain nudity, sexual content, and other adult themes, and they are not appropriate for everyone. If you're considering a Temptation Cruise, it's important to research and understand the type of atmosphere and experience you can expect on board.
Stops included Georgetown and Key West departing from Miami for Feb 2023. There are further evenings at sea. Ships from Celebrity Cruises such as Celebrity Summit
Learn More With Some Tempting Video
Here are some common questions people ask online about Temptation Cruises:
What kind of activities and entertainment are offered on Temptation Cruises?
Look forward to workshops and seminars led by leadingl sexologists, an R-rated Red Room, topless pool parties and events, theme nights and live DJs

Whats different between Temptation Cruises Vs Desire Cruises? Singles of any persuasion are encouraged to board temtation cruises. Desire is hetrosexual couples only. A key difference.

Are Temptation Cruises only for couples or can single individuals go on them as well?

This would depend on the specific Temptation Cruise in question. Some Temptation Cruises may only be for couples, while others may allow single individuals to join.

What is the dress code on Temptation Cruises?

Themed dress is usually encouraged over and above plain nudity, which is just a better way to go no?

Are there age restrictions for passengers on Temptation Cruises?

You must be 21 or over to enjoy a temptation sail.

How does the pricing for Temptation Cruises compare to traditional cruises?

Temptation cruises don't offer the cheapest cruises but there are affordable cabins from 1600 dollars and up.

Whats included on a Temptation Cruise?


What type of amenities are available on Temptation Cruises, such as dining options, spa services, and cabins?

Are Temptation Cruises safe and secure for passengers?

Are there opportunities for passengers to interact with each other on Temptation Cruises, such as group excursions or parties?

Are there health and safety protocols in place for passengers on Temptation Cruises, such as COVID-19 measures?

How does the atmosphere on Temptation Cruises compare to traditional cruises, and is it appropriate for everyone?
If you're considering a Temptation Cruise, it's important to research and understand the type of experience you can expect on board. You may also want to consider reaching out to the cruise line directly or reading reviews from previous passengers to get a better idea of what to expect.
Temptation Cancun Resort Review
If you are not open minded or don't want your guy to see breast this resort is not for you. This is truly an adult only resort. Be ready to party starting at noon and going until 2 a.m. Their staff will spoil you starting with your arrival Henry the bell boy will take care of your bags, Natali in the morning with your coffee, and then Alberto for breakfast. At night Alexa or Isabel will have your drink full all night. They spoiled us, so we spoiled them. If there are any problems Alex or Nancy will take care of them at the front desk. Sit back and relax and go with the flow. Remember plenty of sun screen all over your body. There are going to be parts that have never been tanned before. This was our second trip to this resort and planning our 3rd already for January. For the real adventurous couples boob cruise on Mondays and Fridays, and relaxing massages on the beach the other days. Just enjoy.- Lee C Trip Advisor
---
Desire Cruises
A different but similar option for worldwide crusising of the sexual fun variety is offered by Desire Cruises.
Key Selling Points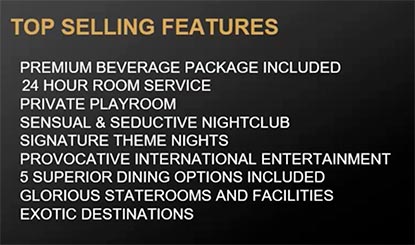 When and where will Desire cruises go?