Icon of the Seas is an exciting vessel indeed. She is heading up a proposed Icon Class fleet for Royal Caribbean International. Icon of the Seas has had her first trials in June 2023 and is the current biggest cruise ship in the world at 250,800 tonnes. Icon Of The Seas (IOTS) was built in Finland by Meyer Turku and will start cruising in 2024.
Measuring a remarkable 1,196 feet in length, which is roughly equivalent to the span of nearly four Statues of Liberty placed consecutively, Icon promises an extraordinary experience for its 5,600+ passengers. Onboard, you'll find an enticing array of amenities, including six thrilling waterslides, seven inviting pools, 19 expansive decks to explore, and an impressive selection of over 40 bars and restaurants to savour.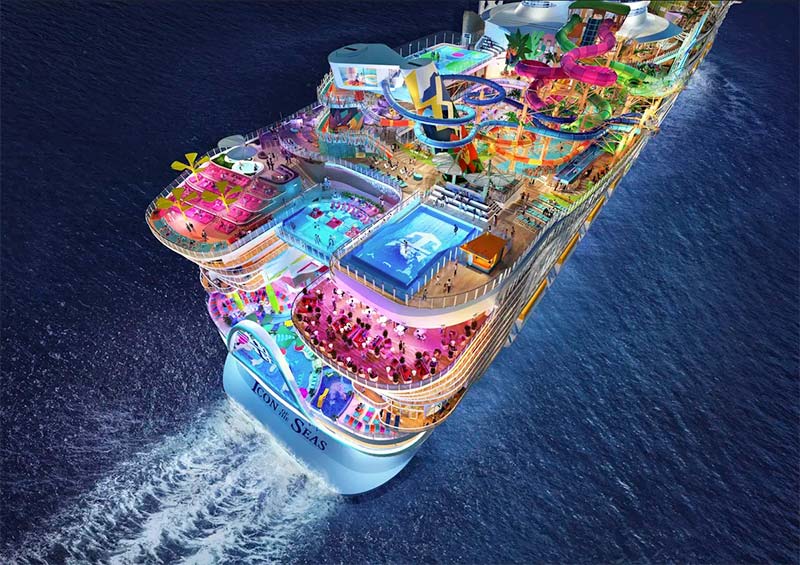 Images thanks to Royal Caribbean
Soaring to a staggering 20 decks in height, this colossal vessel boasts an impressive weight of 250,800 tons, making it over 6% larger than its counterpart, Wonder of the Seas. With a capacity to accommodate up to 7,600 passengers, Icon of the Seas surpasses its predecessor not only in size but also by being 10 feet longer.
More Numbers
As the inaugural vessel of the Icon Class, Icon of the Seas introduces a fresh design, size, and aesthetic distinct from its predecessors within the cruise ship fleet.
When it embarks on its maiden voyage with passengers on January 27, 2024, Icon of the Seas will have the capacity to accommodate a maximum of 7,600 passengers, a number that rises to nearly 10,000 individuals when factoring in the dedicated crew. This marks a significant milestone in the world of cruising, offering a remarkable experience for all those on board.
Icon of the Seas Teaser Video
If you want to experience Icon you will need to book up! She will live in the port of Miami from Jan 2024 until April 2025 and maybe beyond. The first sail will be Jan 27th 2024.
Neighbourhoods
Neighbourhoods help you orient yourself in the huge vessel.
1 Aqua Dome - A show area with glass domed 220 degree views. A 55ft waterfall the highest at sea.
2 Central Park - A space with places to eat amongst the real greenery. Lou's Jazz 'n Blues and a champagne bar called Bubbles. A walk-up sushi bar
3 Chil Island - A pool space and the first at sea swim up bar. The largest pool at sea Royal Bay. Cove pool a quieter infinity pool. Lime and Coconut an adult-only bar.
4 Thrill Island - This will be where the first water park at sea is 'Category 6', a step beyond just having pool slides. Crowns Edge is an exciting rope and walk above the sea experience for thrill seekers. Staples such as Flow Rider surf simulator, mini golf rock climbing wall.
5 Surfside - With pools and things for young families.
6 The Hideaway - the first suspended infinity pool at sea, this neighbourhood is a quintessential pool party area. Additionally, there is a multi-tiered terrace, inviting whirlpools, a diverse array of seating options, and a dedicated bar area.
7 Suite Neighbourhood- Suite is a guest classification and these facilities are reserved for them. The cabins are also located here for convenience.
8 Royal Promenade - An area featuring a restaurant bar and ice arena. The Pearl is also here it's not yet revealed what it is exactly.
Across the whole ship, there are 20 eateries to choose from. 28 different cabin types exist to book up.
VLOG
Icon of the Seas itineraries
Upon its commencement of service, Icon will present a selection of weeklong itineraries, encompassing both Eastern and Western Caribbean routes. Notably, each of these itineraries includes a visit to Royal Caribbean's exclusive private island Coco Cay. Other exciting destinations include Roatan, Costa Maya, Cozumel, St Maarten, St Thomas and others beyond.
People are into cruising
Demand is already high says Royal Caribbean Blog via Royal Caribbean Group CEO Jason Liberty. Jason was talking about the company's earnings with Wall Street analysts.
"Despite being on sale for only five months, Icon is significantly more booked for her inaugural season at materially higher rates than any other Royal Caribbean ship launch."