Philips Series 3000 Beard Trimmer QT4013/23 REVIEW
New

editor
August 09, 2017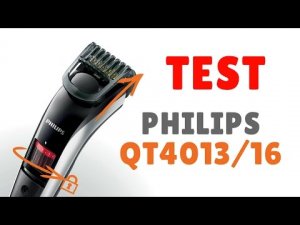 Why not promote and review yours ?
Tags Keywords (Product) Category
Do not confuse this with the series 7 in 1 kit which has the 3000 series label too! Possible confusion here and we have seen product manufactures use this to their advantage in the past..
This shaver is better. The 7 in 1 struggles to do anything particularly well. This shaver however seems to have one of the better motors and battery out there though still no we don't have a super duper one! The only criticism which is consistent with this is the accuracy at short lengths. So if this isn't why you are buying this as you are looking at lengths greater than 1-2mm say then the accuracy factor isn't a problem. 
Pros
This is a capable beard and stubble trimmer if you are not looking for really short stubble. 
It is lightweight
Cons
It's not the cheapest.
For really accurate stubble work the iStubble might be better for you.

Editor review
As with all the trimmers under test there are niggles. This one is light and has a decent battery that can hold a charge, something you need in a seldom used device. It also has good reviews across amazon. It's nice to not have to have removable heads REALLY nice. It doesn't pull we only wish the plastic guide was a little tougher.
Was this review helpful to you?
User reviews
There are no user reviews for this listing.