Myleene Klass Baby K Changing Bag and Mat Review
Hot

editor
March 18, 2011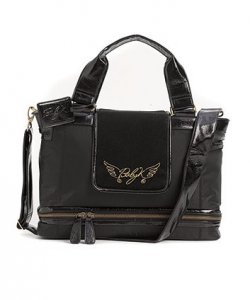 Why not promote and review yours ?
Tags Keywords (Product) Category
Editors note : Really not sure where you can find these for sale these days - check the mazon link above. It looks like stock is low we will keep you posted.
This bag while not cheap is very nice to look at and has space to hold the essentials you will need on a jaunt around primrose hill and beyond. It can be purchased to go to the hospital before the arrival and will help you look good when you feel that you may not !
This bag still hasn't changed since launch and can be hard to get hold of.
The changing mat isn't as large as a regular mat, but has been designed with that size that is portable and allows you to change your baby on a surface you trust.

One year on and the bag is going strong - no visible signs of weakness and it still looks good.

Can you wash the baby k changing bag ?
We put it on a low risk wash in the machine after a vomiting accident and it came out clean, so we say yes you can wash it. Probably best to avoid too much of that if you can. The surfaces can be easily wiped so in in cases of extremis only.
Related Products
Mothercare sells Baby K Change Bag >> - Spring range



Editor review
(Updated: October 19, 2012)
Only scoring low in the value stakes this represents the best in changing bag technology :)
Not sure why google is hiding the actual main review - click the title to see it all properly or use this link !

http://style-review.com/reviews/48-product/625-myleene-klass-baby-k-change-bag-and-mat-review

User reviews
Guest
This is proving to be a great buy - its the perfect size for those half day trips and looks good enough that I don't need to also carry my main handbag - this is a real bonus.

Jen
This is proving to be a great buy and the value is more as it is in use each day. When your in a flap and the baby is peeing everywhere you can just about get to the wipes fast enough ! It fits over our pram handlebars or is a better size in general and ok over the shoulder. It is proving to be durable so far so good- recommended. Wish they did more colours.