Insta360 is a well-known brand specializing in 360-degree cameras, action cameras and related accessories. They have been at the forefront of consumer-grade action and 360-degree camera technology, providing a range of products for capturing immersive content.
2023 latest models
Insta 360 x3 The 360-degree dual lens filming device, a true 360-degree camera.
Insta 360 Go 3 A non 360 degree camera, one of the best consumer action camera packages available
The Insta 360 Go 3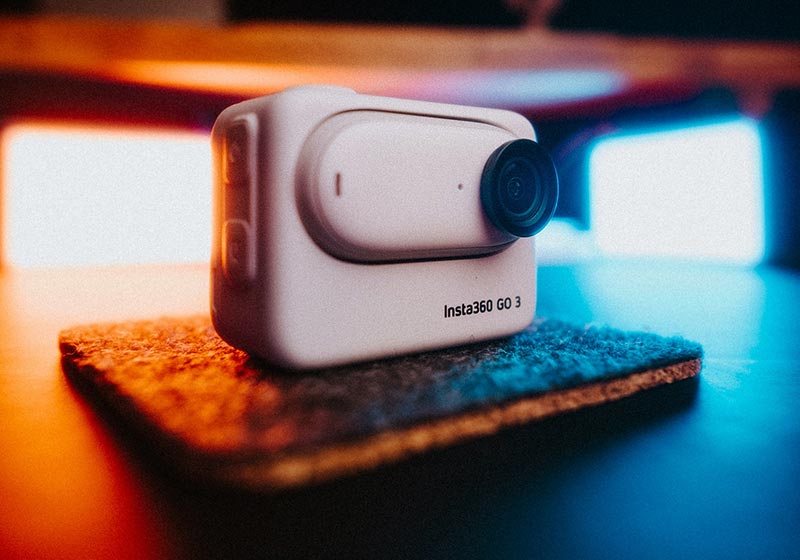 About The Insta360 GO 3
Key features
35g tiny action camera, it's worth repeating that this is just 35g. For uses on helmets and long sticks, this is a big deal.
With a ton of mounting options (they really tried to think of everything) through the magnetic base and included mounts such as the pendant or clip mount. So this camera really benefits from being a great camera for vloggers and action filmers too. The versatility is probably the key feature of this camera. If the 45 minutes of battery runs low you can still then pop it back home in the action pod and carry on filming.
2.7k resolution
2 microphones- allowing algorithmic removal of background noise or vice versa, but in editing at least two audio tracks.
Voice control
Clever useful modes of recording (loop, timer) - let your creativity flow
Multifunctional Action Pod (AP)- A touch screen and viewfinder of what the actual camera is seeing helps you frame the shot when the camera position is not obvious. This is via a WIFI connection with a 5m range. So it could also double as a baby monitor if you need to convince the partner ;) Dashcam...etc if you watch some of the videos we provide below you will get a much fuller understanding of the opportunities this 'partnership' presents.
5m waterproof for the camera, but the main action pod is only splash-proof. You can buy an underwater case which can take the AP.
Who is the Insta360 Go 3 for?
Just about anyone will find it such a nice device to use. It has been designed for the lazy user and intrepid filmmaker in mind. Perfect for vloggers travelers and action people.
Insta360 Go 3 Explainer and Inspirational Videos
Loam ranger channel video- MTB related shots and tips - https://www.youtube.com/watch?v=khGZ7UeU98M
How to get started with the Insta360 go - https://www.youtube.com/watch?v=jMmgyJd1L4I
About The Insta360 x3
Key features
The most spectacular point is that the videos this can create are revolutionary. Two cameras create a seamless 360-degree view which you can choose to re-frame after shooting post-production. This allows a lot of creative freedom and lets you 'just hold the stick' and go. Skiing, Scubadiving Moto X Biking Hiking the list of sports where you want to capture yourself is endless. Here is one example frame where the image is ball-like. You could even just give your toddler the stick to hold and get some memorable footage. A lot of big brand camera firms are playing catchup. The one disadvantage is the work in post-production is a little more tricky but not at all bad. And this camera once you capture some shots then feels limited in the traditional sense. This camera serves a new purpose, so you may find yourself wanting the traditional shots too. Neither of these cameras is cheap otherwise you just could go and buy both.

How does the insta360 x3 work? In this video, https://www.youtube.com/watch?v=2NRyWr_DKl0 the overlap can be seen from the 2 raw feeds and then you see how software can stitch the frames together. Although the x3 has this remarkable footage the quality is not as good as the Go 3 if you just want to use a single feed and use the camera like a point-and-shoot. So this camera can't do it all. It is a little bit of a one-trick pony, but what a trick!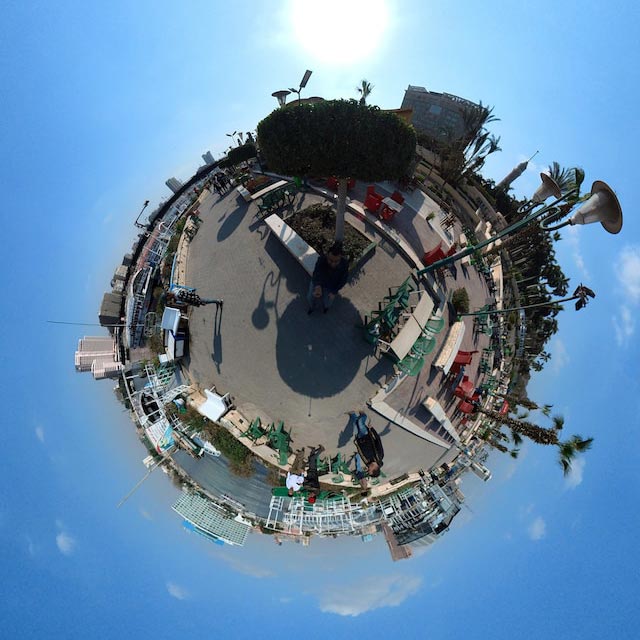 Key features of the Insta360 cameras include:
1. 360-Degree Capture: Insta360 x3 cameras are designed to capture full 360-degree panoramas, allowing users to create immersive photos and videos that capture everything around them.
2. High-Quality Imaging: The cameras often boast high-resolution sensors and lenses, delivering sharp and vibrant imagery.
3. Stabilization: To counteract shakes and jitters during video recording, many Insta360 cameras come equipped with built-in stabilization technology for smoother footage.
4. Live Streaming: Some Insta360 models ('ONE' models) support live streaming directly to social media platforms, enabling users to share their experiences in real-time.
5. Mobile Connectivity: Insta360 cameras are generally compatible with modern smartphones and offer dedicated apps for easy control, editing, and sharing.
6. 360-Degree Editing: Insta360 provides software tools that enable users to edit and enhance their 360-degree content, including features like reframing, object tracking, and more.
7. Modular Design: Some models have modular designs, allowing users to attach additional accessories (mounts, waterproof cases) and expand the camera's capabilities, such as 360-degree audio recording and GPS tracking.
8. Action Camera Capabilities: Several Insta360 cameras are designed for action-packed activities, featuring rugged builds and waterproofing for underwater adventures.
It's worth noting that technology evolves rapidly, and newer models or updates to existing ones might have been released since my last update. Therefore, we recommend checking the latest information on the Insta360 website or trusted tech reviews for the most up-to-date details on their products.
Credits
Photo by Eduardo Gorghetto on Unsplash
Photo by Hisham AlHoot on Unsplash
You may also like