Please note this is now an old article and newer models are available. This article has been left for archive and historical purposes.
The Garmin Forerunner 610 GPS Special Edition
Some of the Features
*Heart rate monitoring with its band that straps around your chest. This is a premium soft strap version, not all packages come with this.
Touch Screen Navigation
Functionality for use with ;Foot pod (not supplied foot pod), Bike sensor also not included.
Backlit screen
Virtual partner and virtual racer, think trainer and competitor.
Configurable displays, set this once and forget it ! I used to set my altitude up for skiing (elevation) this exists here and grade and heading are all beautiful products of GPS.
Waterproof – but not to be immersed for longer periods and NOT suitable for swimming.
Very nice secure strap, there is a tongue and groove on the rubber band so that this wont move and secures the strap from being able to work itself out.
Very nice design – a lot of thought has gone into the looks of this watch and it is a la mod of today and would be good for many age groups. The colour schemes seem to be a white and black model with trim – I prefer the look of the white one but it might have been nice to see them really go to town with other colours.
*Certain models only.
Initial Thoughts on the setup
My initial reaction to the touch screen was – oh cool, then it was a bit frustrating as it isn't my iphone but after getting the hang of it it is very useable- fine used only in the set up and for some basic functions – to note that it seems to be very workable while running to flip between views or there is a screen rotate on auto function so that you can get all of the fields visible without interacting with the watch and just waiting.
There are 2 kinds of sports catered for cycle and running. You can hide the cycling options to simplify the setup but I didn't get distracted and wanted to see what was available. I would like to perhaps try this watch out skiing. I have used my other older forerunner skiing and there was an 'other' sport mode that is missing here and I suspect that cycling will work for skiing here. There is a bike sensor function but I think this needs to be bought separately like the foot pad. Not sure why you would prefer a foot pad over GPS for getting distance but its here.
I have yet to spot the Autopause function that was existing on my old model, this in effect would detect that I had stopped perhaps to stretch or at traffic lights and would give a better reading for true time spent exercising. I am maybe just not finding this setting yet. Edit : The auto pause function is still working as before and can be set for when stopped or a custom speed go to menu Training>Options>Autopause.
Training pages (screens) are fully customizable and you can display up to 4 items per page – the pages then swipe as you run to give you the data. It's fully able to alert you via audio or vibration when you hit some points that you define like at each mile marker or if you start to get above or below a certain cadence. The units are spm I guess steps per minute and high defaults at 120 low 60. Towards the end of a run I think this can be very valuable if set carefully as I tend to drop pace. The virtual partner and virtual racer can help also with this. I think the virtual partner helps to set pace and speed. If your feeling good then quickly set up the virtual racer – he wont even break a sweat !
Using the Foreunner 610
I took it out after its first charge up (and you get a % indication) the first evening which happened to be a rainy stop start tennis session. I didn't even wait the required minute to let it pick up a satellite suite of signals. I just wanted to see what would happen. Immediately I needed the backlight function which gives a very clear view and turns off a proper time later.
I am very curious to see when I get out on a run if I use the swipe much, I think its going to be a simpler going on that disrupting the natural flow that was pressing a button before. The button press required a pincer movement – now I can swipe or tap the display surface.
Using the Garmin Connect with the new ANT wireless pairing device.
As I have no cd reader in my macbook air, I needed to download the software from here http://www8.garmin.com/support/download_details.jsp?id=4417
Then the USB ANT device worked immediately and I didn't need to touch the watch at all even to get it paired.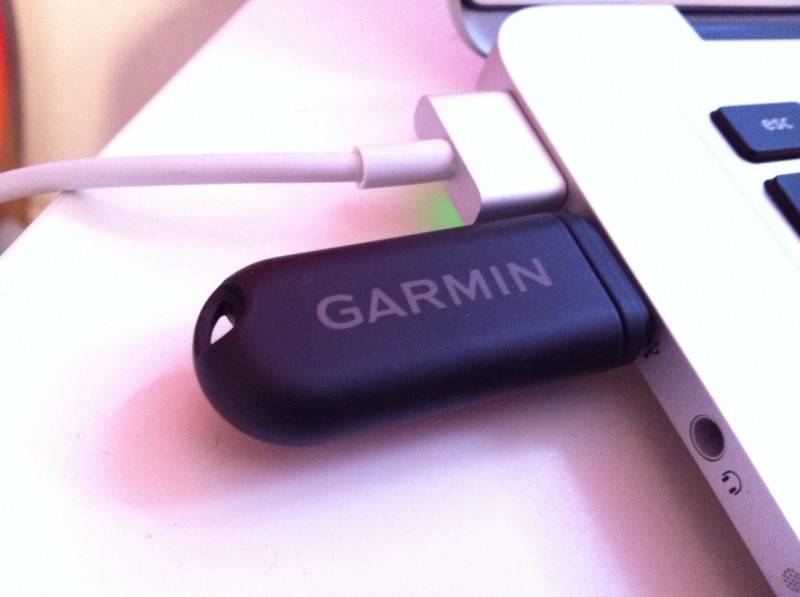 I uploaded the stop start tennis session and as predicted it was not much to go by. I found it easy to delete from the device using the 610 and deleted the data from my connect session. I didn't even expect anything from the upload but it worked well as an initial test.
Virtual Partner
Out of the box I found the default settings for a Partner had been configured. So as I started to run I could see that he/she was running and the default speed was not far off. Over 3 miles I outran it so the next run I increased the speed a bit. The second run he was ahead at first until I settled in. On a bad day I think it would be a good motivator otherwise I need to speed him up a bit. This is the kind of training aid the lone runner can really benefit from. See more with this video here a great tutorial on the feature http://www.youtube.com/watch?v=RDhzb7eGnhE
I have now just 2 runs under my belt after the snow and rain has broken up my training somewhat and looking forward to revisiting other routes that have become more soggy. And I expect to see my fitness go back up quite sharply. I hope that we can explore this more with http://connect.garmin.com/ not https://my.garmin.com !
So what's most apparent at first with actual use ? It's comfortable – my old 305 was a bit heavy and the strap quite hard – I found it a bit annoying on bad days. The 610 is very comfortable – great improvement Garmin. Also it is easy to switch screens – it would be nice to auto hide the heart rate screen if not using the heart rate monitor even turning this functionality off didn't hide this screen – It just means you press again to go past it. The text in some of the fields is hard to read while moving and might be a little hard to read for those with impaired sight its certainly a normal sized display. The good news is that you can configure more screens and set the main fields as needed to show the data you want to see.
Alerts are a great way to know what's happening without looking at your watch – I have set every mile an alert and every 10 minutes. The timer alert is most useful to keep track of time spent in an unfamiliar route for example if you are travel running then in the heat I know that I can start to return after 2 alerts I should be safe. Alerting can be set for many things like cadence or heart rate and can be by vibration as well or instead of audible for those who like to listen to loud music while on the run.
The heading and grade were interesting fields I added to a screen and for where I run the grades went plus and minus 2. I have found that to get a more accurate grade make sure to hold the watch level so don't pump your arms.
Getting to the heart of your training – and loose weight now.
I have held back from using the 2 piece premium heart rate monitor until todays run and I can report thus:
I was amazed to see the swing that my heart rate went though – an incline in particular saw my rate go way up. We will look at these stats in detail in a video please see the videos for this review. But also at the other end of the scale I realize I need to set an alert at the lower end as I found myself slipping in an all too comfortable level. Using these boundaries you can control your workout for YOU. Not racing against a partner as such nor anyone else, I am talking about a veritable guerilla war against fat. It's not widely known that the fat burning range is quite a way under your maximum effort. Finding your maximum effort is best found by going all out in a safe environment for intervals preferably on an incline which will make your heart work harder than a single effort also you don't want the muscles to fail first in this test. The classic calculation is 220 –age. So for me this is 180. I'm (old) school and we used to say 70% of that is the zone you need. For me this is 126. We need to be quite 'rough' here as the maximum also is a guestimate so learn to feel your body and use this as a guiding figure. At these rates you will probably feel quite comfortable and not HATE exercise – great !
Know that you can burn fat at this low intense level and train much longer and run further. So if you sole goal is to loose fat then run at this level for prolonged periods. If you want fitness then do some faster intervals or use the terrain to get you into a higher level, here you will work the lungs and cardio – this is what will make you feel healthy and alive so don't go just for the fat burn.
In short it's all well and good to just get the GPS stats (though they can be great as in this Tokyo Run) but to truly take control of your fitness and running you will need to get close to your heart.
I found the previous HRM uncomfortable and therefore didn't like to use it. This one is much better and over 5 miles it kept in place and didn't feel at all uncomfortable and think it would be fine for much longer runs.
Using it in the GYM.
I used the watch in the gym to track my heart rate wile exercising and keep my work rate in the sett zone of fat burning, and occasionally pushing things since I need to work on my fat burning a bit. I just realized that the strap wasn't noticeable and so means its non intrusive – I think the watch position on my wrist intruded just once while doing chins – I pulled it further away from my hand without the need to loosen it and it was good. Here is the trace from GC (Garmin Connect)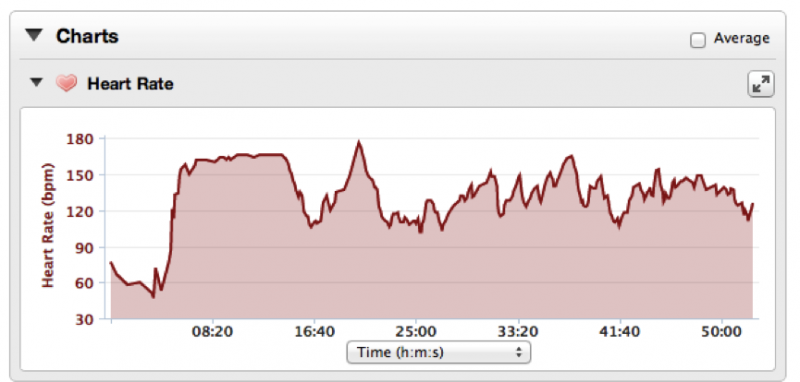 As you can see from the locker room into a jog of 10-15 minutes keeping my average rate at about 164 the speed setting on the machine was 10 miles per hour mostly – trying just to lengthen the warm up. My anaerobic fitness is poor and hence why I need to get back into the gym. Tennis lessons were great fun and a new challenge but I now lost quite a bit due to poor weather (surface water stopping running) and general lack of time. Back to the chart the second peak looking like grand piton in st lucia was a short rowing session. I hate rowing but am quite good at it and therefore I find myself pushing this mostly – not today but it did the job. After that some stretching and getting a few ups and downs that showed each set I did on various machines. As I started to sweat the heart rate stopped dropping out which it did very early on only 3 times despite wetting the connectors.