Mia White Wardrobe Furniture Assembly and Review
Featured
Hot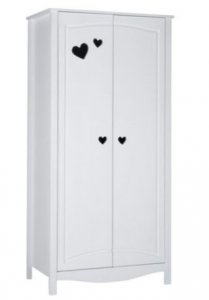 Its that satin white shabby Chic look but with cute hearts cut out of the panels to give your toddler's room design class. I am pleased with it given some things to check in the full review ! Read on..
Well I am not at all an imbecile but maybe somewhat stupid as I made a mistake (a single mistake) while building this wardrobe. The screws were the only thing not labelled well enough and so I (got) screwed thorugh to the outer exposing 4 holes in the beautiful exterior white finish - imagine my self development that I didnt loose it right then and there.
Anyway - check out some of the images while I work on fleshing out this review in more detail - and by the way if you want to contact me at any moment you need advice while building this.
Editor review
(Updated: November 14, 2013)
Its made in china but the build quality and accuracy is pretty good given that I have seen the full gamut of flat packs in my 40 years. The instructions at times (just 2-3) have some inaccuracies and if you think about it its not a problem.
With one screw incorrectly identified I have screwed right through to the outside for the rail holder - what a plonker. I will now need to sand fill and finish it. Very frustrating the screws not clear unlike the panels with small stickers on them.
The finish is very good and the items are well packed so you should not get any scratched panels due to transport. We do need to really go to the hinge extremes on both doors to get them to match perfectly but it really doesn't matter an is the essence of shabby chic. Its not a motor engine at the end of the day. This door hangs from 3 points and then multiply that by 2 doors and you see the reason it isn't perfect - much like me.
When its done it does represent better quality for example the rear 'panel' isn't nailed on (uses screws) so to take it apart and move is really is possible without ripping this panel. You CAN do it alone too ! A minimum of tools s needed and the fixings are of a good standard.
Apart from the mistake it went together well in a couple of hours maybe less.

Is it good value for money - well it isn't at the cheap end but went together well apart from the door alignment hoping to put that right when I get help to rehang and adjust them.
Was this review helpful to you?
User reviews
There are no user reviews for this listing.