"Wall paints add life to your space"
Tips you need to work-up your interiors: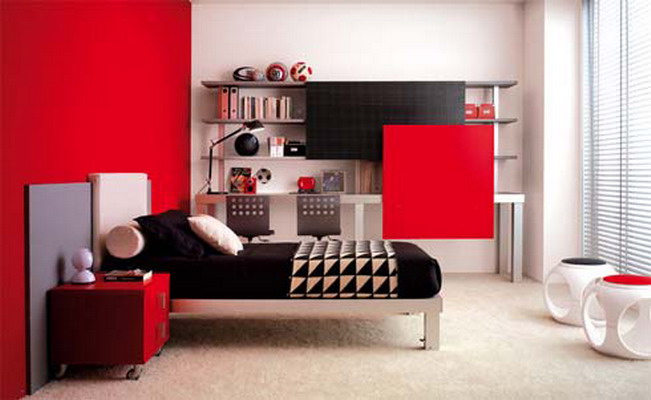 Mood
You are the best judge for this aspect. Decide which mood needs to be created in which room depending on the function of the space. For instance, if you want the drawing room to be warm, you can use different shades of yellow, orange and red and create an appealing combination of these; and if you want it to be cool and soothing you can use blue, green and certain delicate tints of purple. This is how you can decide which mood is ideal for your space and implement it meticulously. Consider the living temperature, do you use and need a/c? If yes then warmer colours might be better.
Harmony
While planning your interiors it is extremely important to make sure that harmony is achieved. Color, texture, shape and form should be in a balanced proportion so that all the element relate to each other. A unique design is one that creates a story in an untold manner where the different element, even if don't blend with each other, do not stand out in an odd manner.
Color Scheme
Pops of splashes of interesting colors and elements in a unified color scheme make a potentially static monotonous space enliven with energy and verve. It is certainly important to follow a color scheme which looks composite of various ideal blending together in a unified way. Following a color scheme is the safest way to create a design with colors which are bound to go well with one another. Or else, the color wheel has so many appealing colors, that one can easily get carried away to pick colors which might look awesome individually buy may not always look good when put together.
60-30-10 Rule
This is the golden rule of interior decoration which ensures the proportion in which you need to segregate your space for adding color to it remains near perfect. According to this rule, the 60 percent of the space should have the hue or the dominant color, 30 percent of the space which provides the elements of visual interest should have the secondary color and the 10 percent of the space must have the those elements which the accent colors to add a hint of sparkle to the design to complete the look.
Adjacent Space
While the design is being planned, it is important to visualize it as a whole and perceive how the adjacent spaces will look as a complete unit. When you look at the entire house from a central point, and more than one room falls in the way, they all must have some sinse belonging. This means that they should some common factor which would tie all the elements of different rooms together. The colors can vary in larger or smaller degrees from one room to another hence developing a relation between all the rooms as a part of one bigger whole.
Add Depth With Finishes
This is done to complete the look of the house. Every design needs a finish to add brilliance to it. Wall art with paints and team from a trusted brand like Berger Paints can help you with this task. The walls can painted in two or three colors to bring out a design one them so that stand out. However, in small space, just one wall is usually painted in this manner to turn it into a focal point and draw attention towards it.
You are the best judge for this aspect. Decide which mood needs to be created in which room depending on the function of the space. For instance, if you want the drawing room to be warm, you can use different shades of yellow, orange and red and create an appealing combination of these