[Please note the links have been removed as these products are no longer available- they are for inspiration only.]
Banana Republic always hits the spot with its easy chic casuals and great work wear. Accessibly luxurious, BR is where I head for a fashion hit when I've had a month that makes net-a-porter look like a dangerous place to be perusing. Particularly if I was not thinking of a re-mortgage.
Meanwhile breezing into BR feels only marginally like skating on thin ice, but just about justifiable. And if I fail to stick to the strictly research purposes only mantra that I adopt at the door the resulting damage will at least not be seizure inducing.
I am currently considering, sorry researching, this dress in soft chambray cotton. Perfect for weekend hanging out when you feel like wearing something other than jeans but want to look super laid back. Seriously effortless (spray tan for the legs aside) grab this quick whilst it stays in the sale and keep your fingers crossed that the sun starts to shine.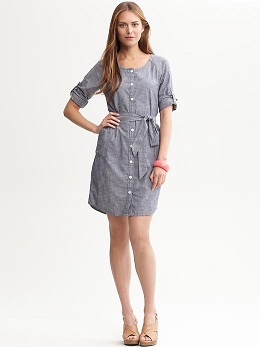 Chambray dress
And if the weather doesn't heat up any time soon, I am thinking about covering up with this just a bit asymmetric cardigan in 85% pima cotton – the softest material around this side of cashmere. At the unbelievable price of £29.99 reduced from the already reasonable £49.50 this is a really sophisticat bargain.
Striped one button cardigan –pima cotton and wool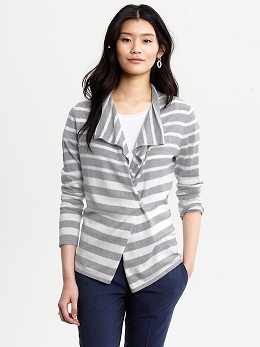 Wear it with these cool blue skinny jeans and finish the outfit off with their fab canvas tote thrown over your shoulder for a polished day time look.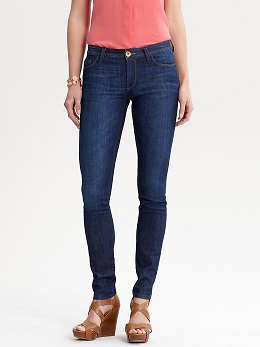 Canvas tote