Reviews
Product
Jetech Screen Protector and Spigen® Hybrid Case in Crystal Orange for the Iphone 6s Review
Jetech Screen Protector and Spigen® Hybrid Case in Crystal Orange for the Iphone 6s Review
Featured
Hot

editor
January 09, 2016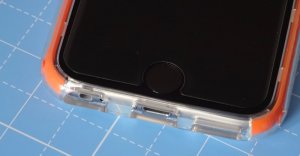 This looks like a great combo purchase. The best transparent case and the best screen protector as rated on Amazon paired together seem to be the best combo buy you can make to protect your new iphone 6s.
Products featured :
Learn how I applied this screen protector in this youtube video. 
Editor review
This is a great combo and comes in colours to suit so its then just a question if you like this kind of case. I could personally like the leather folio type cases more however I like to just having instant access and I want to see my phone. I am less keen for the visual style of the wallet style cases.
I can report that 3d touch is fully functional with the Jetech screen protector. The main and only issue with the screen protector is that it isn't flexible enough at the very edges of the phone where there is a curve or radius. So what you see is the edges but there not be a better solution that is strong enough. It has not at all chipped nor degraded at this point. It also leaves a 2mm approx space between the edges of the case and the screen protector which maybe as neat as you can get.

The case allows access to all functions and protects very well it has been dropped once already and no damage. The rubbery feel helps with the ergonomics and it gets top marks for that. It looks very cool and I would recommend this product combination.
Was this review helpful to you?
User reviews
There are no user reviews for this listing.