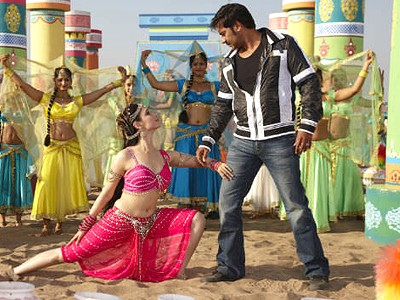 Amitabh Bachchan Does A Jumma Chumma With Priyanka Chopra And Vidya Balan
At the Stardust Awards Amitabh Bachchan, the 70 year old megastar performed the Jumma Chumma song on Saturday at the gala night. When Priyanka Chopra and Vidya Balan, Bollywood's leading heroines joined him, he really felt overwhelmed. When he asked the audience whom he would have to kiss while doing the Jumma, all the ladies in the front row ran up to the stage including, Bipasha Basu, Priyanka Chopra, Vidya Balan, Anushka Sharma and Parineeti Chopra and he actually gave them a peck each. Amitabh Bachchan also picked up a Stardust Award for his son Abhishek Bachchan for his role in Bol Bachchan as best actor romance and comedy since he was out on a shoot in New York.
What Happened To Ranveer In Kolkata!The team of 'Gunday' has been shooting in Kolkata and creating ripples there for the last many weeks, with sequences that are packed with action. A scene was being shot in a muddy place when a piece of glass pierced Ranveer's foot. A source said that he was fine and would be back on the sets the next day for the shooting. Gunday is being directed by Ali Abbas Zafar starring Priyanka Chopra as the leading lady with Ranveer Singh and Arjun Kapoor as the lead male stars.