Fashion is huge it always has been, but more recently we are seeing to die for fashion on the littlest of celebrities, yes the kids of A-listers who give their lives to looking fabulous. These days we are more likely to focus on what Harper Beckham or Romeo are wearing rather than their dazzling parent combo.
US Weekly fashion editor says it all started when a huge amount of pictures were published the girls designer clothing worn by Suri Cruise.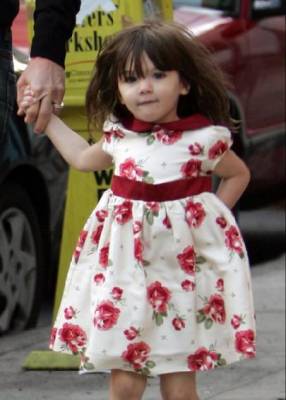 "It definitely sparked an interest for designers to see these kids who are very aware of how their parents dress and dress in high-end labels themselves."
Many fashion houses didn't even have children's lines a few years ago but the huge boost of interest from celebrity parents encouraged them to start one. These days it is common to see Suri Cruise dressed in the latest Roger Viver or Little Marc Jacobs. These designers know the value of the publicity they are getting from high-profile tots.
After eight year old Romeo Beckham was named one of GQ magazine's 50 most stylish men in Britain, Burberry snapped him up for their spring/summer 2013 ad campaign. There is no doubt kids are beginning to rule the fashion universe. Some designers are taking the kids market to a next level with BABY PERFUME! Dolce and Gabbana have released a $45 alcohol-free fragrance.