Staying stylish this summer is a breeze when you take a look at all the colorful and classy trends available for you to try. Don't be overwhelmed with all the choices, keep calm and be cool. Here are a few men's fashion choices that will make your summer wardrobe especially appealing, especially if you'll be spending a considerable amount of time by the pool.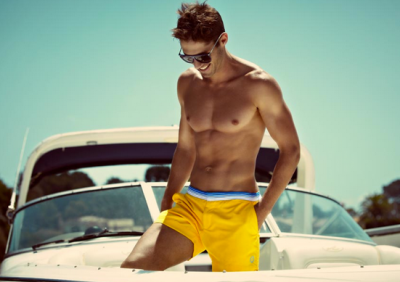 Floral Prints
Designers like Marc Jacobs and Gucci have created a number of attractive t-shirts and shorts that display floral print for summer. These pieces give character to any beach-inspired outfit, and are best paired with a top or bottom in a subtle color. For instance, floral-print shorts, which should fall right above the knee, featuring bright shades of orange, red and green, should be paired with a brown or tan tank top for a fresh and updated summer look.
Brightly Colored and Patterned Trunks
Swimming trunks that boast a bright hue or geometric pattern are completely on trend for the summer. Parke & Ronen, Michael Bastian and Dolce & Gabbana are among the designers who have embraced this trend and created a variety of swimming trunks that will definitely help you make a fashionable impression at the next pool party you attend. Patterned trunks are available in more modest shades like light green and tan, while trunks in bold colors can be purchased in vibrant hues like cobalt blue, and neon pink.
T-shirts
When you are hanging by the poolside, keep the sun off with a t-shirt. You can find any t-shirt to match your style and swimming shorts. Keep cool with Reem clothing and their selection of summer clothing.
Watercolor
To wear the watercolor trend this summer, search for pieces from quality designers like Fendi. This fashionable effect makes shorts, pants and t-shirts much more interesting. The mixture of bold and subtle color looks as though it's been splashed onto the shirt, which is especially fitting when you're wearing the clothing by the pool or at the beach.
Deck Shoes
Deck shoes or boat shoes are a sophisticated addition to your summer look. These shoes can easily help you complete a nautical-inspired outfit, and are comfortable footwear for spending hours socializing at a pool party or walking along the beach. Designers like Jimmy Choo, offer a fresh take on the deck shoe this season, featuring shoes made from glittered suede, and strong canvas, which are especially eye-catching.
Sandals
While sandals made of leather or suede straps in a neutral shade like black or brown are classic and refined, printed sandals are on trend for summer as well. The printed sandal from Carven, which features a variety of colors in a trendy, brick-like pattern, is the perfect addition to a white or tan poolside outfit.
Whether you're heading to a casual poolside gathering of friends, or want to dress in pool-inspired fashion throughout the season to remind you of the fun of summer, these trends will keep you looking your best.